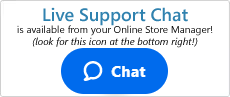 Shift4Shop's Directory Structure
We've created a directory structure that makes it simple for you to find all your data/images/templates, while at the same time keeping them separate from the store coding we maintain for you.
When you connect to your site's FTP server, you will see a series of folders. For most purposes, the folder you will be primarily dealing with will be the Web folder which is where your main files are located.
Inside the web folder, you will see additional folders. The folder you will be primarily dealing with will be the "Assets" folder which will contain these sub-folders:
brand: Used for resellers who want to brand the Online Store manager files, the brand folder will contain your unique admin files.
exports: Whenever you export the various CSV exports of your store (Products, Customers, etc) a cached copy will reside here
images: Your product images will be here as well as any other files uploaded via your Online Store Manager's file manager function.
order_images: If you have products with image uploads as part of the options, those uploads will be found here.
templates: Here you will see the common template folder which contains all the Shift4Shop HTML templates as well as your chosen theme's folder.
Note:
As mentioned, within the web/assets/templates folder you will see a common folder. This folder contains all of the global HTML templates used on your Shift4Shop store. We specifically maintain this folder so you do not have access to write to it, but you can copy templates from it and place them onto your individual theme folder. (i.e. web/assets/templates/v30014 if you are using that particuar theme)
---