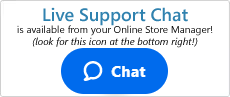 How Often does the Admin Dashboard Update?
When you log into your Shift4Shop Online Store Manager, the first page you are taken to is the dashboard which contains snapshots of your store's business. This includes:
Order/Revenue/Visitor/Conversion Rate Overviews
Sales Graph
Traffic Graph
Customer Statistics
and More.
While it does not update in real-time, the information on the business graphs updates approximately every 4 hours.
---