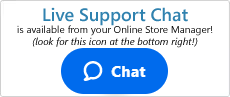 How do I access the Store Language Section?
The Store Language section allows you to change many of the various labels and text found throughout your online store.
To access the section:
Go to Settings >Design >Themes & Styles
Once there, scroll to the bottom, and select the "Store Language" button.
This page will display the Areas/Sections, Labels and Texts used on the store elements. The search bar at the top can be used to locate label and texts on the store. For example, if you'd like to change the "Add to Cart" button to say "Add to Basket" instead, search for "Add to Cart" and change the text areas that appear.
Remember to click save at the top right and clear the store's cache to commit your changes and view them on the store.
Tip
The store language section can also be used if you are looking to change your store from it's default English to another language. Click
here
for more information.
---