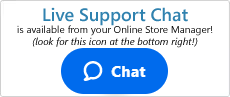 Knowledgebase
Can I set my store to a different language?
Shift4Shop can support any language that uses the Roman/Latin alphabet, such as English, French, Spanish, Portuguese. However, the cart cannot support non-roman/latin alphabets, such as Greek or Chinese.
Tip
Here is a brief definition of the Modern Latin alphabet (reference omniglot.com)
The modern Latin alphabet consists of 52 letters, including both upper and lower case, plus 10 numerals, punctuation marks and a variety of other symbols such as &, % and @. Many languages add a variety of accents to the basic letters, and a few also use extra letters and ligatures.
If you are looking to change your website to a different language that uses the Roman/Latin alphabet, you can make modifications in the Admin panel to support this.
Note:
Your Shift4Shop store can only support one language at a time.
---
Change the Store Language
The first section in the Online Store Manager to visit is the Store Language section. The store language section contains all content for the store's web pages, i.e. Headers, Footers, Instructions, and General Page Content like buttons and such.
Go to Settings >Design >Themes & Styles
Once there, scroll to the bottom, and select the "Store Language" button.
In each section, replace the English terms with the corresponding language terms to replace the language displayed on the website.
Click Save Changes.
---
Change the System Generated Emails
The second section in the Shift4Shop Online Store Manager to visit is the Email template section. The cart will automatically send emails to your customers for various reasons, such as order status change, joining the mailing list, and gift certificate retrieval.
Go to Settings >Design >Emails
Next to each Email Template, click Edit
In both the HTML and Text sections, replace the English wording with corresponding language wording
Click Save Changes.
---
Change the System Messages
The final section you will want to visit is the System Messages section. This section contains all system generated error messages that displays to your customers on the website.
Go to Settings >Design >Themes & Styles
Once there, click on the "More" button (located along the top right), and select "System Messages" from the dropdown menu.
In each Name and Message field, replace the English text with the corresponding language text.
Click Save Changes.
Note:
There is only one language per Shift4Shop store. Therefore, if your site needs to be in multiple languages, you will need to purchase one cart per language.
---
Supported Languages
Here is a list of languages that can be written using the Roman/Latin Alphabet (reference: omniglot.com)
Note
Although these languages can be written using the Roman/Latin Alphabet, please note that some characters may require special key combinations to write. Please be sure to use UTF-8 Encoding for them to ensure proper functionality
Abenaki, Acehnese, Acholi, Achuar-Shiwiar, Adzera, Afaan Oromo, Afar, Afrikaans, Aguaruna, Ainu, Ajië, Akan, Aklan, Akurio, Alabama, Albanian, Aleut, Algonquin, Alsatian, Amahuaca, Amarakaeri, Amis, Anutan, Apache, Arabela, Aragonese, Aranese, Arapaho, Arawak, Arbëresh, Aromanian, Arrernte, Arvanitic, Asháninka, Asturian, Atayal, Atikamekw, Aymara, Azeri, Babine-Witsuwit'en, Bambara, Baniwa, Bartangi, Bashkir, Basque, Bavarian, Beaver, Belarusian, Bemba, Bikol, Bislama, Bolinao, Bora, Bouyei, Brahui, Breton, Bugis, Bundjalung, Burushaski, Bushi, Caquinte, Catalan, Cayuga, Cebuano, Central Sinama, Chamorro, Cha'palaachi, Chavacano, Chechen, Cheyenne, Chinanteco, Cimbrian, Chichewa, Chickasaw, Chipewyan, Chippewa, Choctaw, Chuukese, Cofán, Comanche, Comox, Cornish, Corsican, Cape Verdean Creole, Creek, Croatian, Crow, Cubeo, Cuyonon, Cypriot Arabic, Czech, Dagaare, Dagbani, Danish, Dawan, Delaware, Massachusett, Dholuo, Dinka, Dolgan, Drehu, Duala, Dusun, Dutch, Elfdalian, Emilian-Romagnol, English, Esperanto, Estonian, Ewe, Ewondo, Extremaduran, Eyak, Fanagalo, Faroese, Fijian, Fiji Hindi, Filipino, Finnish, Flemish, Folkspraak, Fon, Fox, Franco-Provençal, French, French Guianese Creole, Frisian, Friulian, Fula(ni), Futunan, Ga, Gagauz, Galician, Gallo, Ganda, Garifuna, Garo, Genoese, German, Gooniyandi, Greenlandic, Guadeloupean Creole, Guambiano, Guanano, Guarani, Guernésiais, Gugadja/Kukatja, Gwich'in, Haida, Haitian Creole, Hän, Hausa, Hawaiian, Herero, Hiligaynon, Hixkaryana, Hopi, Hotcąk, Hungarian, Huasteco, Hupa, Iban, Icelandic, Ido, Ifugao, Igbo, Iloko, Inari Saami, Indonesian, Ingrian, Interglossa, Interlingua, Interslavic, Iñupiaq, Irish, Ishkashimi, Italian, Iu Mien, Ixil, Jamaican, Jaminjung, Jarai, Javanese, Jèrriais (Jersey Norman French), Jicarilla, Jingulu, Juǀ'hoan, Juhuri, Kabyle, Kadazandusun, Kagayanen, Kaingang, Kala Lagaw Ya, Kam, Kanuri, Kapampangan, Kaqchikel, Karaim, Karakalpak, Karamojong, Karbi, Karelian, Karuk, Kashinawa, Kashubian, Kaurna, Kazakh, Ket, Khakas, Khoekhoe, Khufi, Ki'che', Kickapoo, Kikuyu, Kinyarwanda, Kiribati, Kirundi, Klallam, Klamath, Koasati, Kolam, Kongo, Konkani, Koya, Kumyk, Kuna, Kurdish, Kven, Kwakiutl, Laalaa, Ladin, Lahu, Latin, Latino sine Flexione, Latgalian, Latvian, Lingala, Lingua Franca Nova, Ligurian, Limburgish, Lithuanian, Livonian, Llanito, Lojban, Lombard, Low Saxon, Lozi, Lule Sámi, Alur, Luxembourgish, Lampung, Maasai, Madurese, Makasarese, Makhuwa, Malagasy, Malay, Maltese, Mam, Manado Malay, Mandar, Mandinka, Maninka, Mankanya, Manx, Māori, Mapuche, Maranao, Marshallese, Masbateño, Massachusett, Mauritian Creole, Mazahua, Mazatec, Matigsalug, Mbula, Mbum, Megleno-Romanian, Meriam Mir, Mescalero-Chiricahua, Miami, Mikasuki, Mi'kmaq, Minangkabau, Mirandese, Miskito, Mixtec, Mizo, Mòcheno, Mohawk, Mohegan, Montagnais, Montenegrin, Moriori, Mossi, Mro, Mundari, Murrinh-Patha, Murui Huitoto, Nagamese, Nahuatl, Nama, Naskapi, Nauruan, Navajo, Naxi, Ndebele, Ndrumbea, Neapolitan, Nenets, Ngiyambaa, Nheengatu, Nias, Niuean, Noon, Noongar, Norn, Norwegian, North Frisian, Northern Sámi, Northern Sotho, Novial, Nuer, Nuosu (Yi), Nuu-Chah-Nulth (Nootka), Nǁng, Occidental, Occitan, Okinawan, Onondaga, O'odham, Omaha, Oneida, Old Norse, Oroshor, OshiWambo, Ossetian, Otomi, Ottawa, Paakantyi, Paama, Paicî, Palauan, Pangasinan, Papiamento, Pennsylvania German, Picard, Piedmontese, Pijin, Pipil, Pirahã, Pite Sámi, Pitjantjatjara, Pohnpeian, Polish, Pomo (Eastern), Porja, Portuguese, Potawatomi, Purepecha, Q'anjob'al, Q'eqchi', Quechua, Raga, Rapa Nui, Rarotongan, Ronga, Rotokas, Romanian, Romániço, Romansh, Romany, Rotuman, Rushani, Saami/Sámi, Saanich, Sakao, Salar, Samoan, Sanglechi, Sango, Saramaccan, Sardinian, Sarikoli, Sarnámi Hindustani, Sasak, Saterland Frisian, Satawalese, Scots, Scottish Gaelic, Seri, Seychelles Creole, Shavante, Shawnee, Shetland(ic), Shilluk, Shona, Shoshone, Shughni, Sicilian, Silesian, Sioux, Skolt Sámi, Slovak, Slovenian, Slovio, Soga, Somali, Soninke, Sorbian, Southern Sámi, Southern Sotho, Spanish, Sranan, Sumbawa, Supyire, Susu, Swahili, Swati/Swazi, Swedish, Tagabawà, Tagalog, Tahitian, Tatar, Taiwanese, Talysh, Tamajaq, Tamasheq, Tariana, Tausūg, Teleut, Tepehuán, Ter Sámi, Tetum, Tikopia, Tiriyó, Tiwi, Tłı̨chǫ (Dogrib), Tlingit, Toba Qom, Tok Pisin, Tokelauan, Tongan, Toraja-Sa'dan, Torres-Strait Creole, Tshiluba, Tsonga, Tsotsil, Tswa, Tswana, Tuareg, Tucano, Tumbuka, Turkish, Turkmen, Turoyo, Tuscarora, Tutchone, Tuvaluan, Tuvan, Twi, Tzeltal, Udi, Umbundu, Ume Sámi, Urarina, Uyghur, Uzbek, Venda, Venetian, Veps, Vietnamese, Volapük, Võro, Wa, Wakhi, Walloon, Warlpiri, Waray-Waray, Wardaman, Wayuu, Welsh, Wemba Wemba, West Frisian, Wik-Mungkan, Winnebago, Wiradjuri, Wolaytta, Wolof, Wynadot, Xârâcùù, Xhosa, Yaghnobi, Yami, Yapese, Yaqui, Yemba, Yindjibarndi, Yolngu, Yoruba, Yucatec Maya, Yuchi/Euchee, Yurok, Záparo, Zapotec, Zarma, Zazaki, Zhuang, Zulu, Zuni
---
Similar Questions
How do I translate the store to Spanish?
Can I have my store written in another language?
How can I change the language of the store?
---