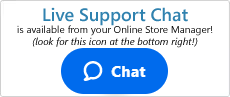 Knowledgebase
How Do I Use the Store Language Section?
The Store Language section allows you to change many of the various generic labels and text found throughout your online store. Generally, most of the pre-written text found on common pages such as login pages and so on will be found here. With it, you can do the following:
Remove the Powered by Shift4Shop tag on your store's footer.
Change the default "Free Shipping" label
List your product features with individual tags instead of "Feature 1, Feature 2:" etc
Much much more.
To access the section:
Go to Settings >Design >Themes & Styles
Once there, scroll to the bottom, and select the "Store Language" button.
Once on this page, you will see three sections along with a search bar (that allows for you to search through the Store Language fields easily):
Area
This describes the section of the store that this text belongs to. "Account", for example means that this text displays in the account section of the store. This is to help differentiate when some phrases may be in multiple areas.
Label
This is the name of the actual variable being used on the store. The names here give you an idea of what they control. "Add-New-Address", for example, means that this belongs to the text on the store that ties to the function to add a new address within your customer account.
Text
This field is where you can actually modify what displays on the front end. This means that you can adjust the wording to your liking without needing to change any code. So you can change the "Add to Cart" message to say "Add to Basket" instead directly through here.
Remember to click save at the top right and clear the store's cache to commit your changes and view them on the store.
Additional Information
While most generic text is found here, there is always a chance it may be found elsewhere. If you do not find what you are looking for here, we recommend also checking the System Messages area. This functions similarly to the Store Language area, but with a focus on messages displayed to the customer such as errors or warnings.
There is also a chance some text may be coded into the template itself. This varies from template to template.
Tip
The store language section can also be used if you are looking to change your store from its default English to another language. Click
here
for more information.
---