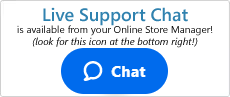 How Do I Add Tax to my Shift4Shop Store?
Your Shift4Shop store includes a built-in Tax Manager that allows you to specify tax rules based on the order's "Ship to" zip code.
To add tax specifications to your store, log into Online Store Manager and proceed with the following steps:
Go to Settings >Payment
Look towards the "Tax Manager" section in the middle of the page and click on "Setup Tax"
If you have never set up taxes on the store before, you will see two buttons. One marked "Automated Tax Setup" and one labeled "Manual Tax Setup" For the purposes of this article, select the Manual Tax Setup option.
Click "+Add New" located at the top right of the page
Select the regional parameters for your tax rules (i.e. country, state)
In the "Zip From" and "Zip To" fields, type a range of zip codes you would like the tax be applicable to.
Tip: If these fields are left blank, then the tax rate will apply to the entire region you have selected for the Country and State fields.
If you have a large amount of zip code ranges to enter, you may want to consider having Shift4Shop's myWebMaster Services help you out. Please click here for more information.
Enter your tax percentage in the "Tax %" field.
Click the "+Add" button at the top right of the section to complete the steps.
Your tax rules are now set up.
After adding the tax entry, you will see two selectable check boxes. These are:
Inc. Shipping
By default tax rates are applied ONLY to the product being ordered. Checking this box will apply tax rates to order's Shipping Costs on top of the order amount.
Inc. Discount
By default, tax is applied to the order's main subtotal without considering any discount that may be applied. In other words, a $5 item is charged the same tax as a $5 item with a $2 discount. Checking this box will apply tax to the order while also considering any discounts applied. (i.e. The $5 item with a $2 discount is charged tax on the discounted amount)
Once you have inserted the tax, you will also see an option where you can enter a Tax Code.
This option would be applicable only if you need to set up a different tax rates on a per product basis. For example, in some areas food items are taxed differently than material goods. For these situations, you would create tax codes which can then be applied to your products (Using the product's Advanced Tab).
Tip
For more information on charging different tax rates on products using Shift4Shop's Tax Manager, please click here.
---
Removing Tax Ranges
If you'd like to remove a tax range, look towards the far right of the added range and click on its "Action >Delete" button.
Note
If you are using an Advanced and 3rd party Tax solution such as Avalara, SpeedTax or TaxCloud, please be sure to remove all ranges that are created with Shift4Shop's Tax Manager to avoid any possible conflicts.
---