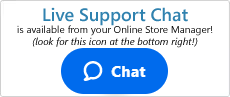 How do I use the "Create a Logo" button?
Logaster is an online service that helps you create branding for your business including logos, letterheads and more. Their service has different pricing plans for you to choose from, but they also provide you the ability to create and download a free logo for yourself.
You can create this logo for your store directly from the Shift4Shop Online Store Manager by following these steps:
Log into your Shift4Shop Online Store Manager
Using the left hand navigation menu, go to Settings >General >Store Settings
In the "Store Information" section, click on the "Create a Logo" button
Enter your Store Name in the field provided and then click on the "Create a Logo" button
The system will go through a quick process and give you a few layout variations of a logo with your store name.
Hover your mouse pointer over any of the variations to click on its individual "Download" button
At this point in the process, you will leave the Shift4Shop Online Store Manager and be taken to logaster.com to complete the creation of the logo.
Tip
At the top left corner of the Logaster page, you will see a button labeled "CHANGE LOGOS DETAILS" which will let you make modifications to the created logo including the business name, industry type, iconography, and coloring.
After fine-tuning your logo and selecting it, click on the "Next" button located at the top right of the page
Enter an email address and password and click on "Sign Up" to create your free account with Logaster
Next, click on the "Download" button to view additional iterations of the logo to choose from.
Note
You may also click the "Edit" next to download to further revamp the generated logo to your liking.
When you find a logo that you like, hover over it and click on "View & Download"
Then, click on the last download button located at the top right of the page to finally retrieve your logo.
Note
The free logo will be provided at a fixed small size. Larger sizes of the logo will be available, but will require choosing a pricing plan with Logaster.
With the logo file saved to your computer, you may once again log into the Shift4Shop Online Store Manager to add the logo to your store.
---