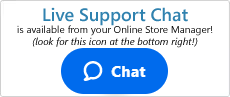 Cloudflare SSL FAQs
Here are some answers to common questions for those who have purchased a Cloudflare Dedicated DV SSL certificate for their Shift4Shop Store.
Q: How can I verify that the SSL Certificate has been installed?
A: You can see this in your web browser by clicking on the lock icon in the address bar.
Then click certificate details to view the details.
Q: How can my visitors know I have an SSL?
A: In the same way, when they visit a secure website the browser's address bar will show the lock icon.
Q: Is there are seal to show that I have an SSL on my website?
A: While there is no seal from Cloudflare, Shift4Shop provides security seals you can add to your site for free by clicking here. (Scroll down to "Free Website Security Seals")
Q: Why is my store not showing https after installing the SSL?
A: You may need to update your STORE URL to use the new https version of your site. You can check this by going to Settings >General >Store Settings in your Shift4Shop Online Store Manager and clicking on the "Manage Domain & Store URL" button. If the Store URL is set to "http://" instead of "https://" please contact support so we may make the change for you. (Please be sure your Cloudflare SSL certificate has already been installed.)
---