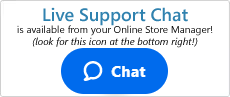 Why Does My Payment Method Not Display for Phone orders?
If you are using the phone order system and your payment method is NOT displaying for phone orders, check for the following:
Payment Method is set to customer group "None"
When setting up payment methods, you can make the method appear to different customer groups (All, None, or Specific). The customer group "none" is intended for regular, retail customers shopping on the store front and will not apply to phone orders. If you would like to have the payment method apply to Phone Orders, be sure to update its customer groups to also include phone orders. Click here for more information.
Payment Method does not support Phone Orders
Certain payment methods like PayPal Express and other "redirect" type methods require that the shopper manually login and enter their credentials into the payment method. For this reason, the payment method will not appear on the phone order system.
---