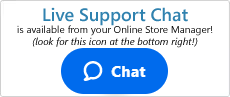 Knowledgebase
Can I assign my Payment Method to multiple customer groups?
Yes!
Beginning with Shift4Shop version 10.0.3, merchants can make individual payment modules accessible for multiple customer groups. Previously, the system would only allow you to make the payment module accessible to all customers, or individual groups at a time.
To set a payment method to multiple groups:
Log into your Shift4Shop Online Store Manager
Using the left hand navigation menu, go to Settings >Payment
On the Payments page, click on the "Select Payment Methods" button
Once there, locate your installed payment method and click on the link next to "Customer Group"
(The link will be labeled with whatever Customer group the payment module is currently set for)
A popup modal will appear that will let you configure the finer details of the Payment method including order amount ranges, and the order status that will be used for orders using the payment method.
In the center of the modal, you'll be able to assign the payment method to Customer groups. Your choices are:
All
All customers regardless of group.
None
Customers who do not belong to any particular group
Select Specific
This will open up a section of the modal, allowing you to select multiple groups. Simply select the groups you'd like to add and move them to the right-hand window pane.
Note
The "Select Specific" option will also be used if you'd like to limit the payment method to just phone orders.
Once you are satisifed with your selections, click "Save" on the modal and your payment method will be limited to the selected groups.
Additional Information
When adding a new payment method, you will need to set its customer group to one group initially. However, after the method is created, you can follow the steps outlined above to set it for the multiple groups.
---