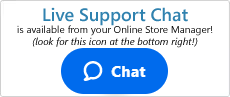 How do I integrate my store with Google Analytics?
Google Analytics tells you everything you want to know about how your visitors found you and how they interact with your site. You'll be able to focus your marketing resources on campaigns and initiatives that deliver ROI, and improve your site to convert more visitors.
Apart from keeping track of all traffic from other search engines, Google Analytics can also help you track your return on investment of your Google Adwords campaigns.
Integrating your store with Google Analytics is easy and this article will show you how.
Important
This particular integration with Google Analytics is not compatible with Google's "Enhanced Ecommerce Reporting" functionality. Please make sure this feature is turned off on your Google Analytics account.
---
Retrieving your Google Analytics Property ID
The first step in the integration process is to have a Google Analytics account. Once you create and set up an account with Google's Analytic service, you will be issued a "Property ID" which will be needed for your Shift4Shop store. To retrieve your Google Analytics Property ID, follow these steps:
Log into your Google Analytics Account
Click on the "All Accounts" link located towards the top left of the Google Analytics interface.
Select your store site's profile
To the right of the profile's listing, under Properties & Apps, you will see a number.
(Note: The number typically begins with "UA-")
This is your Google Analytics Property ID. Copy/Save this number to your clipboard for the rest of the integration
---
Adding the Property ID to your Shift4Shop Store
The next step will be to add the Property ID number to your Shift4Shop store. To begin this next process, follow these steps:
Log into your Shift4Shop Online Store Manager
Using the left hand navigation menu, go to Marketing >SEO Tools
Click on the "Google Tools" tab located along the top of the page
Add your Google Analytics Property ID in the provided "Tracking ID" field
Mark the "Enable Universal Analytics" checkbox to use the latest analytics.js tracking provided from Google*
(If you uncheck this box, the site will use the older qa.js tracking)
Additional Information:
When you mark the Universal Analytics checkbox, an open text box will appear with the Google Analytics JS code inside. This is the default code provided by Google. You may edit the code to suit your needs if you have special requirements for the code.
After you click save, the store will inject this code into your pages. Should the need arise to go back to the default code, simply click on the "Restore Default Script" link at the top right of the box.
Click "Save Changes" and you're all set!
Note:
If you are also using Google Webmaster Tools, you can also add your verification meta tag in to the other supplied field
---
Behind the Scenes
Google Analytics is made up of two specific codes (provided by Google) which track your site's analytical information. One code is known as the "Tracking Code" and it is meant to be placed on every page of your site. The second code is is known as the "Conversion Tracking Code" and it's job is to track the sales placed on your store. This second code is meant to be added to your checkout pages.
By following the above steps to integrate your Shift4Shop store with Google Analytics, Shift4Shop will automatically add the required coding to your site (along with your Property ID code) to the appropriate pages and Google Analytics will be able to track the site's activity from that moment on.
---