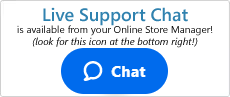 Knowledgebase
How do I troubleshoot tax issues?
Whether you're using the default Shift4Shop tax manager or one of our partner integrations like Avalara, SpeedTax or TaxCloud for your store's tax calculations; troubleshooting tax issues can be easily done right from your Shift4Shop Online Store Manager.
Every order in your store will contain a "Verify Tax" link that can be used to see how tax is being calculated for the order in question.
To verify tax for an order log into your Shift4Shop Online Store Manager and follow these steps:
Go to Orders >Manage Orders
Then go to the the "New" tab at the top (or whichever status the order appears in)
Find the order in question and click on its respective Invoice Number
Or go to the far right of it and click on the "Action >Edit" button
When viewing the order, click on the "Actions" button dropdown located at the top right of the page.
Then click on the "Verify Tax" link
This will open up a secondary window that will calculate tax using the methods specified in your store. There are two sections to the Tax testing screen. The top section will give you brief information while the bottom half will show tax calculation in more detail.
Note
For Not Completed orders, there is no "Actions" button, but there is still a verify tax link.
However, please be aware that proper tax calculation requires product data as well as shipping address information to calculate correctly.
Therefore, Not Completed orders may not always properly work when verifying tax - since these orders might not always contain the proper information due to the fact that the shopper may not have gotten as far as entering shipping information or logging into the store.
---