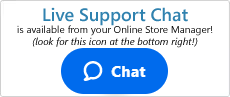 Knowledgebase
How do I link an Order to an existing Customer Record?
On occasion, you may have a time where an existing customer may type in their login email address incorrectly or enters different information on their subsequent visits to your store - thereby inadvertently creating a new customer login for him/herself. The problem with this however, is that their orders will be assigned to two different customer records, and they won't necessarily see an accurate representation of their purchase history when they next log into their account.
As the Merchant, you are able to link orders from one customer record to another and consolidate orders for separate customer records. This way, when your customer logs into their correct account, they'll be able to see their order history correctly.
In the event a customer types in their email address wrong or gives different personal information at checkout, you can link their order to the existing customer record for tracking purposes. Therefore, when the customer logs into their original account, they will be able to see an accurate history of past purchases.
---
Link Order
Go to Orders and click on the New tab (or whichever status tab the order is in).
Click on the order's invoice number (or look to the far right and click the order's "Action >Edit" button).
When viewing the order, click the Actions drop down button at the top right.
In the Actions window, click Link to Customer.
Type a keyword (i.e. email, name, or company name of the customer record) to find the customer you would like to link the order to.
Choose the correct customer record and click Save to commit your changes.
If you go to your store's Customers page and search for the customer record, you will see the order has been linked properly in the orders tab.
---