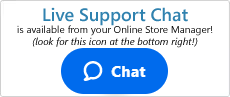 Knowledgebase
How do I FTP with FileZilla?
If you are using FileZilla as your FTP client, these instructions will help you connect it to your Shift4Shop store's FTP service.
Open up FileZilla and click on the "Site Manager" icon located at the top left hand corner.
Click on New Site to create a new profile to connect to.
Populate the following fields with the appropriate information

Host
Enter this as shopfileaccess.shift4shop.com
Port
Enter 22
Protocol
Set this to SFTP - SSH File Transfer Protocol
Logon Type
Set to Normal (Ask for Password also works)
User
Typically this will be listed as "[your-domain]|[username]". If you do not have this information, please contact support and they will be able to supply you with it.
Password
You may also get this information from support.
Important
Before contacting support, please be aware that you will need to be verified as an authorized user on the account before FTP credentials may be given to you.
Click OK to save your settings
You should now be able to connect via FTP
If you are unable to connect, please contact our support team so we may help you and go over your settings with you.
---