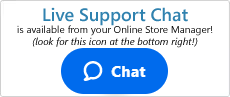 Knowledgebase
What Does The Non Searchable Setting Do?
When setting up your products in the Shift4Shop Online Store Manager, you will find a series of options in the Information Tab for various functions of the product including hiding the item from view, marking it as non-taxable, and more.
One of these settings is to mark the product as "Non-Searchable"
If marked, this setting will remove the product from search results on your store. It will also remove the product from your store's Site Maps including the Product Index.
Furthermore, you will also have the additional option of removing the product from external product feeds using the "Exclude non-searchable items from Feeds" setting found under Settings >General >Store Settings under the "General" tab.
---