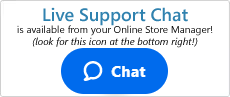 Knowledgebase
Does the store keep a log of recent item changes?
Yes!
Your store will keep a running log of changes made within the Online Store Manager on Products, Orders and Customer records.
After making and saving any changes to a product, order, or customer record, the store will add a "Change History" section at the bottom of the saved page. This history view will show you recent changes (up to 6 months) made to the store record as well as the name of the user that made the changes.
Clicking on the "View Details" link for each log will show you which fields were changed on the item.
---