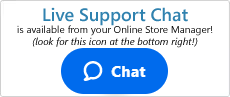 Knowledgebase
How do I enable AMP for my Store Pages?
Accelerated Mobile Pages (AMP) is a Google-backed project designed as an open standard for any publisher to have pages load quickly on mobile devices. When a page is indexed and listed on Google, the search engine will favor AMP enabled pages so that they load and display much more quickly for mobile platforms when someone clicks on the google listing.
Your Shift4Shop store has the ability to use AMP on the following pages to assist with your store's SEO.
Homepage*
Category Pages*
Product pages
Blog Pages*
Note
*Enabling AMP on home, category and blog pages is exclusive to CORE themes only. On HTML5 themes, you will only have the option of enabling AMP on product pages.
To enable AMP, follow these steps:
Log into your Shift4Shop Online Store Manager
Using the left hand navigation menu, go to Marketing >SEO Tools
Once there, locate the AMP section within the "General" tab.
Place a checkmark in the "Enable AMP" checkbox
Also place a checkmark in each individual section you'd like to employ AMP on
Click "Save" at the top right of the page.
AMP is now enabled for your selected sections.
Additional Information
It is important to note that AMP will only apply to pages that are indexed and listed on google search results. The purpose is to have visitors (on mobile platforms) who find your products through Google arrive at the store in a much quicker fashion by using the AMP enabled page.
Going to your store's home page in a mobile browser and simply navigating to products will not show you the AMP enabled pages. Only links shown on Google for the product page will be seen in AMP mode.
---
Testing Your AMP Pages
Although Shift4Shop automatically converts the enabled pages to AMP format for you, there may be certain elements present in your pages that can interfere with AMP. For example, iframe embedded videos or certain scripts that you may have manually added to the pages. Typically, these are edits added through custom coding in the pages' information (in the Online Store Manager) that allow you to enter HTML.
Fortunately, Google offers a free testing tool that will help you identify code issues that may trip up the page AMP coding.
Simply click here and enter your page's AMP URL to test it.
Tip
To get your product page's AMP URL, be sure to add ?amp=1 to the end of your regular product page URL. For example, if your product page is normally:
http://www.your-domain.com/product-name.html
Enter it into Google's AMP testing tool as:
http://www.your-domain.com/product-name.html?amp=1
The testing tool will let you quickly identify which customized areas of your page you will need to correct in order to work with AMP.
---