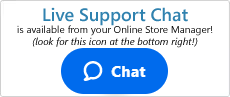 Knowledgebase
Ebay Module: Will item price changes update on both systems automatically?
Unfortunately, no. At present time, this functionality is not available.
If the item being listed on eBay is on sale in your Shift4Shop store at posting time, then it is listed on eBay with the sale price. If the item is updated on your Shift4Shop store with regular price, the item listed on eBay will still have the Sale price. Price changes would need to be made manually on the eBay side.
Note:
The above usually only applies if you are using the "Same Price" option found in the eBay listing template.
Full information on setting up the eBay integration can be found here.
---