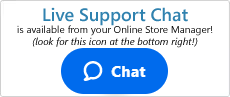 Knowledgebase
How do I print out CanadaPost Shipping Labels?
To print CanadaPost Labels from your Shift4Shop Online Store Manager, please use the following steps:
Please note
The following instructions require that you store be integrated with Canada Post's Web Service API. If you are unsure whether or not you are on this platform, please check by going to Settings >Shipping and clicking on the "Enter Settings" link found under the "Carrier Settings" section. Then click on the "Show Credentials" link for Canada Post.
If the Contract Number is not present but rather a Customer Number and API Username and Password are present you will have to click the "UNREGISTER FROM CA POST" button to re-enter the credentials by logging into your Canada Post account.
We recommend you save the currently present information to Notepad for easy retrieval before unregistering.
Printing Canada Post Shipping Labels
Log into your Shift4Shop Online Store Manager
Go to Orders >Manage Orders and click on the "New" tab
(or whatever status you use for order labels; shipped, in process, etc)
Look to the far right of the order you wish to print a label for and click on its "Action >Edit" button.
Then click on the "Shipping Label" button located at the top right of the order screen (Look toward the left of the "Save" button)
A pop up window will come up showing you the order details and the carriers integrated with your store.
Select CanadaPost as the carrier.
Select the additional shipping parameters like delivery methods and options.
Click on "Get Quote" to get a quote for the label.
When ready, click on "Get Label" to generate the shipping label.
The shipping label will be presented in a PDF format from which you can print it out on your thermal or inkjet printer.
Print Out the label
End of Day Manifest
Canada Post requires that you transmit your day's work at the end of the day in order to get your account's daily manifest. This is a very important step that needs to be done when you've printed up your last label of the day. Failure to do so may result in delayed orders and unsatisfied shoppers.
To do this, follow the steps outlined above and - when you print out your final label for the day - click on the Transmit Shipments Button located on the label generation window.
This will transmit the day's shipments over to Canada post for the End of Day manifest. You can view the manifest afterward by clicking on the label manager button for the last order, and clicking on the "View Manifests" button which will show you the manifests for the last 7 days.
---