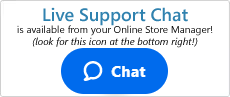 Why Is My Shipping Preview On The View Cart Page Not Calculating?
The Shipping Preview found on your store's view cart page is set - by default - to domestic addresses only.
Note
Domestic Addresses are those that are within the same country your store's shipping origin.
If you have international customers that attempt to use the Shipping Preview with its default settings, they will not get prices quoted to them. To remedy this, you will need to enable the International Shipping Preview setting on the store.
Log into your Shift4Shop Online Store Manager
Using the left hand navigation menu, go to Settings >Shipping
Once you get to the Shipping page, click on the "Edit Settings" button under Shipping Settings
Locate the View Cart Shipping Preview section and click on it to expand it
Place a mark in the "Enable International Shipping Preview" checkbox
Click "Save" at the top right
Your customers will now have the added option of specifying their country/state information for the shipping preview.
Note
The countries made available in the shipping preview will correspond to the countries set up in your store's Country List.
---