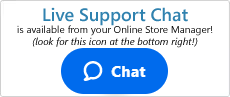 Why Is My Logo Distorted?
Several of our themes use CSS styling to have the store logo display at a certain aspect ratio. In some cases, and depending on the dimensions of your logo, this CSS styling may result in your logo appearing distorted or smaller than expected.
If you are well versed on CSS editing, you can typically edit the theme's default.css file to accommodate your logo. Alternatively, you can review the default.css logo style and edit your logo to accommodate the default styling. Either method would give you ways to control the display of the store's logo if the styling is changing the look of it.
Also, in the event that you are not familiar with CSS editing, please try out Shift4Shop's MyWebmaster services for the CSS edits.
---