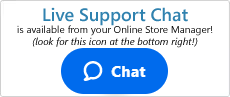 Can I Use Domain Masking With My Store?
Merchants who may have more than one domain will typically forward their additional domains to the main store URL. For example, you may have storedomain.com as your Shift4Shop store but you may also have store-domain.com or storedomain.net registered as well. A simple domain forward will take anyone who types in store-domain.com or storedomain.net into their browser and redirect them to your store's URL with Shift4Shop. With a regular domain forward such as this, the address on the person's browser will update to the target domain since it is a basic forward.
Domain masking is a type of domain forward that works the same way, but - rather than changing the URL on the browser's address bar - the domain is masked and never changes. In other words, if the masked domain is store-domain.com and someone enters that into their browser, they'll still be forwarded to the target domain, but their browser will not change the address at all.
Unfortunately, domain masking does not work on Shift4Shop because the masking process interferes with the store's secure pages. Therefore, we require that you use regular domain forwards on your secondary domains if necessary.
---