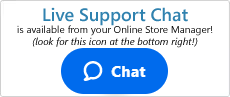 Why Am I Getting a 403 Forbidden Error?
Note
The following information applies mostly if you have purchased a dedicated SSL certificate for your site.
Issue
When trying to access your store via an HTTPS address, the browser returns a "403 Forbidden" Error
Cause
Your site's SSL certificate has expired.
The above error happens when the domain's SSL certificate has expired or is otherwise no longer valid. To correct this, you will need to either renew the certificate and have it installed onto your site or have Shift4Shop switch your store back to its shared SSL certificate using the temporary *.s4shops.com or *.3dcartstores.com URL for the store's secure pages.
Renewing your SSL
Typically, SSL certificates are valid for one year (unless purchased in larger increments from your provider). To renew your SSL certificate, simply re-purchase/re-register the SSL you previously had or purchase a new one altogether.
Tip
You can also order SSL certificates directly from Shift4Shop and avoid 3rd party install fees. Click here for ordering information.
---