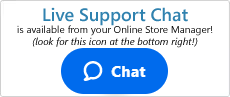 What Do I Do When My PCI Scan Fails?
Although Shift4Shop is 100% PCI compliant, 3rd party PCI scanning services can sometimes come back with false positives that trigger a failure on the scan.
If your service's PCI scan has failed, please reach out to our support team and provide us with a PDF of the scan results along with whatever information was flagged as having failed.
We will provide this information to our server administrators so that they can confirm the status of the error and fully determine if the problem is a false positive or something that requires further attention.
---