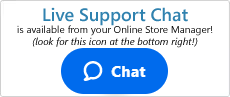 How do I edit the Latin placeholder text on my Home Page?
If your Shift4Shop store is brand new, you may have noticed some Latin text on the home page below a header that states "Welcome to Veniam". This is simply some placeholder text to help illustrate the placement of page content for you. You may edit or remove it using the Page Editor on the Home Page.
To remove or change the placeholder text:
Log into your Shift4Shop Online Store Manager
Using the left hand navigation menu, go to Content >Site Content
Next, click on the "Edit" button for "Home Page"
On the next page, click on the "Launch Page Editor" button
This will open up the page for you with the page editor enabled. The page editor will allow you to add elements to the header and footer of the page.
Scroll down to the footer section.
Remove/Edit the latin placeholder text.
Click "Save" at the top right to commit your changes.
For more information on using the Page Editor Tool, please click here.
Similar Search Phrases
Welcome to Veniam
Lorem ipsum
Latin text
---