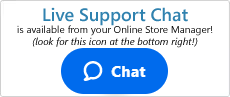 Does Shift4Shop comply with the California Consumer Privacy Act (CCPA)?
As a service, Shift4Shop is compliant with the California Consumer Privacy Act (CCPA) enforced by the State of Califonia as of January 1st, 2020.
In addition, we are prepared to address any requests made by our customers related to their expanded individual rights under the CCPA:
Right to be Informed:
Our Privacy Policy describes what data we collect and how we use it. If you have specific questions about particular data, you can contact [email protected] for further information at any time.
Right to be deleted:
You may terminate your Shift4Shop account at any time. You may also contact Shift4Shop to request that we permanently delete your account and all data associated with it.
Right to object:
You may opt out of inclusion of your data in our usage statistics simply by requesting to Shift4Shop that you would like your website data excluded of any application statistics compiled by Shift4Shop.
Right of portability:
We will export your account data to a third party at any time upon your request.
The above information explains how Shift4Shop will handle your data as a customer should you need to have a service that is compliant with the EU GDPR enforcement.
Please note:
This legal information is not the same as legal advice, where an attorney applies the law to your specific circumstances, so we insist that you consult an attorney if you'd like advice on your interpretation of this information or its accuracy. In other words, please do not rely on this paper as legal advice, nor as a recommendation of any particular legal understanding.
---