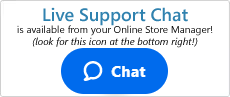 Why isn't my USPS First Class International shipping working?
When you first create a shipping method, the Shift4Shop system will set the default weight ranges on the method as 0 to 150lbs. This applies to all shipping methods when they are first created regardless of carrier. However, it should be noted that the maximum weight allowed by USPS for their First Class International shipping method is for 64 ounces (4 pounds).
Therefore, if/when you add USPS First Class Mail International as a shipping method, please be sure to limit its individual weight range to be 0 to 4 lbs.
For international deliveries over this weight limit, you will need to select one of USPS' alternate methods. Please check USPS' individual rates for more information as to which methods work best for you.
---