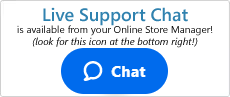 Can I Print Return Labels For RMAs?
Yes!
Beginning with Shift4Shop version 9.1, merchants have the option of printing out return labels when processing their RMAs. This will greatly improve your customer service by having the label generated specifically for your customer and make their return process simpler for them.
To print RMA return labels you will need the following:
A Shift4Shop Store
It needs to be on a Plus Store running version 9.1 or higher
FedEx Shipping Calculation
Your store must be set up with FedEx real time shipping calculation.
If you have the above requirements, then you're already set to print return labels. Now, when processing your RMAs, you may click on the "More" button a select "Create Return Label"
Once you confirm the selection, the label manager will appear and will create a label for you based on the item that is being returned, with the recipient and merchant addresses switched.
---