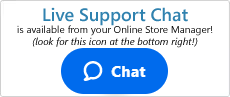 Why Doesn't My Store Create "Dummy" Email Addresses on Phone Orders Anymore?
In previous versions of Shift4Shop - when adding a customer record through a phone order - the store would create a "dummy" email address as a placeholder on the customer record. This was intended so that you could create the customer record and complete the Phone Order quickly. However, the expectation was that you would inter the correct email address before placing the actual order since the email adddress create by the store was merely a placeholder.
Unfortunately we removed this functionality due to email compliance issues. In many cases, merchant left the placeholder email address unedited, and the order would trigger bounce-back emails that affected the email deliverability of the store and impacted server performance.
As of current versions of Shift4Shop, you must enter a proper email address when creating a new customer record on your phone orders.
---