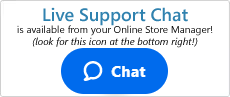 Why Do My Images Change Color When Seen on the Store Front?
Problem:
Certain colors on product images appear to change when seen on the product page.
Cause:
The images are likely saved in CMYK color mode.
Solution:
Save the images in RGB color mode.
In the field of graphic design, images can be saved in various color formats depending on how the images will ultimately be used. If the images are to be used for printing (i.e. posters, fliers, magazines, etc), then the image will typically be saved in CMYK color mode. However, if the images are to be used in web design, then RGB color mode should be used.
In some cases, using CMYK color mode images on your store may result in those images appearing different when viewed on the store front. To correct this, simply open the image in your favorite photo editing program and change the color mode to RGB. Afterward, save the images and re-upload them to your store to have them display properly.
---