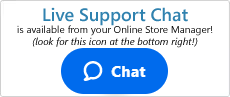 Knowledgebase
How do I make Merchant Distributed Gift Certificates?
Gift certificates are another form of payment you can make available to your customers. There are two types of gift certificates - Merchant Distributed Gift Certificates and Purchased Gift Certificates.
Merchant Distributed Gift Certificates
are created by you (Merchant) and distributed to your customers as you see fit. For example, some merchants prefer to issue a gift certificate to their customers for a specific dollar amount as a way of oferring them a "store credit" rather than a refund.
Purchased Gift Certificates
are certificates that your customers can purchase from your store as they would any other product. They can either redeem the certificate at another time, or otherwise give them to someone else as a present. For information on this type of Gift Certificate, please click here.
For the purposes of this article, we will discuss the Merchant Distributed Gift Certificates.
---
Merchant Gift Certificates
The Merchant gift certificates can only be made by you, and can only be distributed by you. Customer's cannot buy them on your online store directly but must have the gift certificate's code given to them by you.
To create a certificate:
Go to Settings >Payment
Click on "Create Gift Certificates"
Click the "+Add New" button located at the top right, then type the amount you would like the gift to specify for the certificate
Click Generate.
The Software will then generate a code for that gift certificate. You can send the code to anybody you want. When the customer goes to checkout, they will type that code into the coupon field.
Be aware that the code will be randomly generated. In previous versions of the Shift4Shop software, Gift Certificate codes would start with GC and a random number. However, beginning with version 9.0.15 of the software, Gift Certificate codes will be completely random including the letters present in the code.
Note:
You can view and edit the individual Gift Certificate to see how many times it has been used and to which invoice(s) it has been applied to.
---