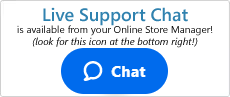 Can I display all shipping methods on the checkout page?
Yes!
If you have multiple shipping carriers and methods configured on your store, the checkout page will typically display them grouped within their respective carrier and you would view one carrier at a time.
In other words, let's say you have several shipping methods created under UPS and several other methods configured under FedEx. On the checkout page, your shopper will be able to see the rates for those methods by clicking each carrier independently to display their rates. As one carrier is clicked open, the other carrier will close its view. This is intended to keep the checkout view organized.
However, we often have merchants who request having their shipping methods displayed all at once regardless of carrier.
This is now possible beginning with version 8.3 of the Shift4Shop software! The following steps will let you toggle this setting:
Log into your Shift4Shop Online Store Manager
Using the left-hand navigation menu, go to Settings >Shipping
On the Shipping page, click on the "Edit Settings" button
On the Shipping Settings Page, click on the +Icon next to "General Settings"
Locate the checkbox labeled "Show rates for all carriers at once" and place a mark in the checkbox.
Click "Save" at the top right of the page to complete the setting change.
Your store will now display all carriers and their applicable rates on the checkout page instead of being grouped into each carrier one at a time.
---