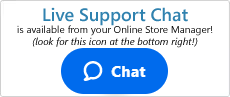 How do I use the Inventory Stock Buffer Add-on?
The Inventory Stock Buffer add-on from Shift4Shop allows you to specify a buffer on the number of units you have on hand for items. For example, let's say you have 10 units of a product on hand, but you would like to keep 3 units in your backend inventory for reserve or emergency reasons. The Inventory Stock Buffer add on will let you designate the product as having a stock buffer of 3, and - when the store front inventory reaches this number - the store will treat the product as though it is out of stock.
Note
The Inventory Stock buffer is intended for the store front only. For phone orders (which are created in the Shift4Shop Online Store Manager), your product inventory will reflects its actual physical inventory.
If you have purchased the Inventory Stock Buffer add-on for your store (click here to purchase), here's how you will set it up on your products:
Log into your Shift4Shop Online Store Manager
Using the left hand navigation menu, go to Products >Product List
Locate the product you would like to add an inventory buffer to and click on its name or thumbnail image
You will see the Product's information tab which is where you would normally edit the name, price, description and dimensions of the product.
Scroll down to the Inventory section of the page.
Note
Be aware that your store needs to have Inventory Control enabled in order for the Inventory section to appear.
In the Inventory section, locate the "Stock Buffer" field.
(It's directly beneath the "Stock Alert" field)
Enter your Stock Buffer amount. This is the number items you wish to retain in the back-end inventory.
Click "Save" at the top right to commit your changes.
Repeat the above steps for each product you'd like to update.
Tip
The same action can be done via CSV import by creating a custom export set and using "stock_buffer" as one of your custom fields.
---