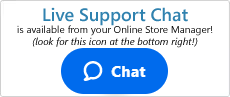 Is Shift4Shop ADA compliant?
The Americans with Disabilities Act (ADA), sets standards for making business websites accessible to people with disabilities. Any company that deals with persons with disabilities must ensure that their websites are accessible to their users at all times.
All Shift4Shop themes are ADA compliant right out of the box. Make sure any customizations you make to your website don't go against ADA compliance.
Please click on our featured blog article: "How to make your website ADA compliant" for more information.
---