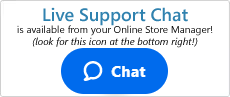 Ebay Module: Will my store send email notifications when I process imported orders?
Unfortunately, no. As part of the eBay integration, there are guidlines set in place that Shift4Shop must adhere to. One such guideline is a restriction which will not allow their customers to be emailed from a 3rd party service (i.e. your Shift4Shop store), when the originating order was placed on eBay.
In the case of imported eBay orders, you must use the eBay interface to notify customers of their order status.
---