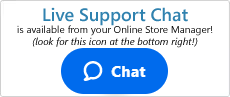 How Do I set Up Google Pay on my Shift4Shop store?
Google Pay is a payment system offered by Google that allows shoppers to purchase from your store on their Android powered mobile phones or Desktop (using Google Chrome in either case). The service also allows users to use the payment cards they have on file with Google Play.
Shift4Shop's integration with Google Pay is made possible through Stripe, so you will need the following to set it up on your store:
A Stripe account with the gateway set up on your Shift4Shop store.
Once you have Stripe set up and configured on your store, proceed with the following steps to set up Google Pay
Log into your 3dcarrt Online Store Manager
Using the left hand navigation menu, go to Modules
Once there, use the search bar at the top of the page and search for "Google Pay"
This will display and open the module. To continue:
Click on "Change Settings"
On the settings page, you will have the following fields:
Enable Pay With Google
Mark this checkbox to enable the payment method
Payment Gateway
Choose the applicable Payment Gateway that will be used to allow you to use Google Pay
Note
Currently, Shift4Shop's ability to use Google Pay is through the Stripe Payment Gateway. As compatibility with other payment gateways is made available, they will appear in this drop down menu. For now, however, Stripe will be the only one listed.
Also, be aware that since the Google Pay payment method uses Stripe as its backbone, the order confirmation emails and orders within the Online Store Manager will reflect Stripe (and its caption) as the payment method used on the order. Transaction details within the order will reflect as "[Google Pay] Stripe" but the confirmation email will show only the payment method's caption in its details.
Once your settings are configured, click "Save" at the top right of the page.
When browsing your store on Desktop or an Android mobile device (using Chrome for either case), users will see the Google Pay button in the following locations:
On the product page when viewing individual items*
On the view cart page*
On the checkout pages
*Note
In order for the Google Pay button to appear on the listing and view cart pages, those pages must be disaplyed in HTTPS mode. Please click here to learn how to set your entire store to use HTTPS mode for all pages.
---