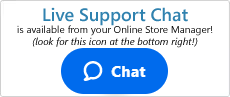 Knowledgebase
How Do I Enable Google Analytics' Enhanced Ecommerce Functions On My Shift4Shop Store?
Google Analytic's Enhanced Ecommerce functionality allows the measurment of user interactions with your products and the user's shopping experience, including: product impressions, product clicks, viewing product details, adding a product to the cart, initiating the checkout process, and more.
Tip
Click here to learn more about Google Analytics Enhanced Ecommerce
If you have this add-on available on your store (Shift4Shop Pro - $229 or higher), you can use the following steps to turn it on and enjoy its tracking benefits.
Log into your Shift4Shop Online Store Manager
Using the left hand navigation menu, go to Marketing >SEO Tools
When the SEO Tools page appears, click on the "Google Tools" tab lined across the top of the page
Look for the "Enable Enhanced Ecommerce" checkbox and place a check in it.
Click "Save" at the top right of the page to confirm your settings.
Your store will now track Product Impressions, Product Detail Impressions, Product Add to Cart actions, Checkout and Purchases and send them to your Google Analytics report. Just be sure to set up the appropriate matching funnel steps in your Google Analytics account.
---