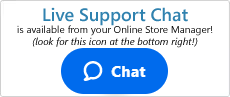 Are there limits to the API Calls?
Are there limits to the API Calls?
When connecting to the store's API (for 3rd party applications or your own apps) you will typically make various calls to the service in order to retrieve information or send information back to the store.
For example, a 3rd party shipping label manager program may make API calls to request/retrieve new orders from your store as well as follow up API calls to write shipping tracking numbers to orders that labels are created for.
A common question is whether there are limits on the number of calls made to API or if perhaps API calls are capped on different plans.
Fortunately, there are no limits or plan caps to the number of API calls made ot the Shift4Shop API.
---