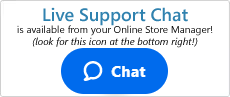 Knowledgebase
How do I connect my store to Facebook Ads?
The following steps will allow you to integrate your Shift4Shop store's products with Facebook Ads technology. For information on setting up and using your Facebook ads account, please click here and here.
Integrating Facebook Ads with your store
Note
In order to use Facebook ads, you will need a Facebook profile and a business page associated with that profile. Be sure you are logged into your Facebook profile before proceeding with the next steps.
You will also need to connect your store to use Facebook Commerce. Please go through the steps outlined here to complete this process first.
To create and manage your ads:
Log into your Shift4Shop Online Store Manager
Using the left hand navigation menu, go to Marketing >Facebook Ads
If you haven't yet setup Facebook Commerce on your store, this action will bring up the Facebook Commerce module for your to complete the onboarding process. As mentioned above, please click here for information on setting up Facebook Commerce.
If you've already set up Facebook Commerce, you will see this screen:
From here, you can create and manage your ads as needed. You can also review your advertising summary and recent ads in the bottom half of the page. Please refer to Facebook's documentation for information on creating, managing and reviewing your ad campaigns.
At the top right of the page, you will see a button labeled "Facebook Commerce Settings" which will take you to the Facebook Commerce module in your Shift4Shop store.
---