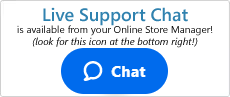 Why can't I turn off the mailing list or browse by manufacturers functions?
Issue:
Even though I have disabled the Mailing List and Manufacturers list in my store, it still appears on the footer when I view my site!
Cause:
You're viewing the store while logged into the Online Store Manager.
Most Themes will have elements such as the Manufacturer list and Mailing List sign up form visible on either the left or right banner. Typically, when disabling these features (from either the Admin Design Bar or from the settings in your Online Store Manager), they will no longer appear on your pages.
However, on some themes, these elements appear on the footer of the site. This is because most of the responsive themes will eliminate the left and/or right banner for aesthetic reasons. In these cases, you can still remove the features if you do not want to use them, but when you click on "View Store" (while logged into your Online Store Manager), these features will still be visible to you.
Rest assured however that they are only visible to you since you are logged into the Online Store Manager. Your shoppers and visitors will not see them if they are turned off. Only you can, and only when you're logged in as admin. To confirm that the functions are indeed turned off as you desire, log out of the Online store manager and view your store. (Or otherwise view the store front in another browser.)
---