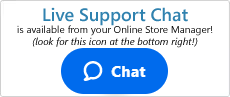 How does the RMA file upload feature work?
Beginning with version 7.2.2 of the Shift4Shop platform, your store's RMA functionality can now accept file uploads from your shoppers. This can be useful for situations where your customer needs to send you an image of the product that they're trying to return (to illustrate damage, for example). As merchant, you and your staff can also upload files to the customer while processing the RMA.
---
How does my Shopper Upload a File to RMA?
As the RMA is being created, the customer will see a button labeled "+Select Files" on the page. Clicking this button will allow them to browse their desktop and select the file that they'll be uploading to you.
---
How do I upload a file to the RMA?
As you process the RMA, you will also see a "+Select Files" button in the Online Store Manager. This will let you upload the image to the RMA that you will be sending to your customer.
---
What kind of files are we allowed to upload?
For the most part, the files will be images and document files.
.gif
.jpg
.png
.tif
.tga
.pdf
.doc
.txt
.zip
Note
In the case of image formats like jpg and tif, the files will need to be the 3 letter extension. In other words, file.jpg instead of file.jpeg and file.tif instead of file.tiff
---
How do I retrieve the uploaded image in an RMA?
When processing the RMA, you will see a section lableed "Order Return Files" in which you will see two columns. In the "User Uploaded" side, you will see the customer's upload and a link which will download it to your computer.
---