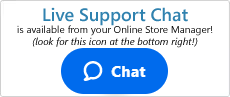 Knowledgebase
How do I use the location exclude lists?
Several of the store's built-in functions can be configured in such a way where the features will only work for shoppers in certain geographical locations. For example, when setting up a shipping method, you have the ability to specify the country and/or state that the shipping method will be applicable to. Along with this functionality, you can also use the Exclude List on the module to further refine its limitations.
In other words, let's say you want to set up a shipping method for shoppers in all of the United States. When creating the shipping method, you would tailor it to work for Country: US | State: ALL. This would make the method applicable to everyone in the United States.
However, if you wanted to exclude some locations in the United States like Alaska and Hawaii, you would use the Exclude List to further refine the applicable areas for the shipping method.
There are three main locations where you will find the exclude lists:
Payment Methods
After setting up a payment method (Settings >Payment | Select Payment button), click on its "Settings" link, followed by the "Advanced Settings" button. Once there, you will see a link labeled "Edit Exclude List"
Shipping Methods
After setting up a shipping method (Settings >Shipping | Shipping Methods button), click on its settings link, followed by the "Advanced Settings " link. Once there, you will see a link labeled "Edit Exclude List"
Promotion Manager
When creating or editing a promotion (Marketing >Promotion Manager), click on the "+Promotion Rules" icon to view the Country and State that the promotion applies to. Beneath the "State" field, you will see a link labeled "Exclude List"
Regardless of the function that you're editing, adding an exclusion is the same process. Once you click on the applicable exclude list link:
Click on the "+Add New" button found along the top right of the page.
(Promotion Manager will have this button labeled "+Add New Location")
Select the applicable country from the "Country" drop down menu
Next, select the aplicable State/Province from the "State" drop down menu

*

Click "Save" to commit your changes.
*Addtional Information
Be aware that in order to exclude specific states, the country you select will need to have states created for it. This can be done in the Country List section found by going to Settings >Shipping and clicking on the "Country List" link. Please click here for more information on configuring the store's Country List.
---