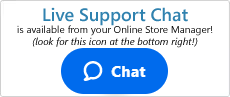 Google Analytics: Why is PayPal being credited as a referrer for transactions?
Issue
Google Analytics is crediting PayPal (or other off site payment gateway) as a referrer
Solution
Add referral exclusions to your Google Analytics account settings.
Google Analytics recognizes where incoming traffic was immediately before arriving to your site. These are shown on your Google Analytics report as referral traffic sources. By default, each referral triggers a new visitor session in Google Analytics, so there may be instances where the calculation of your visitor sessions is incorrect.
For example, let's say a visitor arrives to your store and begins shopping. Their initial arrival begins the start of a new session on Google Analytics. As they browse and add items to the cart, they are part of the same user session on your Analytics report. However, when the user is ready to check out and pay for their order, they elect to use PayPal Express which directs them to the PayPal login pages. They log into their PayPal account, pay for the order and are directed back to your store to complete the order.
During that redirect back to your store, Google Analytics records the shopper's re-arrival as a referral (because they technically arrived to your store from a different location) and it begins a new visitor session. This has the effect of counting one interaction as two separate sessions
To correct this, you would need to add PayPal's domain to your list of excluded referral trafic sources. Please click here to review Google's documentation on how to do this.
Additional Information
Please note that the above is not just limited to redirect payment methods like PayPal Express or Standard. The same would apply to any redirection that may occur on your site. This includes services like International Checkout, Bongo Checkout, and other services where the shopper may be directed to the external source, and - from there - be directed back to your store. You will likely want to add those service domains to your exclude list if you use them.
---