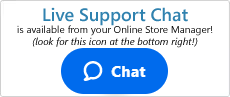 How do I use the Global WYSIWYG Toggle?
---
Turn Off/On WYSIWYG
At the top right of the new admin, you will see the username that you're using to log into the Online Store Manager. If you click on this username, a special drop down menu will open up with a series of links and settings within it. One of these settings is labeled "Turn Off WYSIWYG"
This option will effectively turn WYSIWYG off (or on) globally for every section of the Online Store Manager that has WYSIWYG available for it. This way, if you're well versed in HTML and coding, you can basically turn off WYSIWYG for the whole store since you won't likely be using it at all. And, if you're more comfortable with WYSIWYG, you can elect to leave it at its default setting of being turned on.
Sections that use WYSIWYG include the following (to name a few):
Product Information Tab
WYSIWYG is used for the Product's Extended Description and Extra Fields 6 through 13
Site Content
WYSIWYG is used for the content sections
Header and Footer
WYSIWYG is used for the global header and footers
For more information on using WYSIWYG, click here.
---