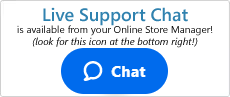 How can I delete my Not Completed Orders?
Not Completed orders most often occur when a customer abandons the shopping cart before they complete the checkout process. They can be quite useful because you can see at which step customers may be leaving the checkout process and what items they were potentially trying to purchase. You can even email the customer if they input their email address.

Not Completed orders can be accessed in your Shift4Shop Administration panel by taking the following steps:
Go to Orders to view your store's current orders
Then click on the "Not Completed" tab found along the top of the page.
From here, you can click on the "Action >View" button to review the Not Completed orders in the queue.
To delete these orders, simply click on the check box located to the left of each order (or at the top left of the page to select ALL) and use the batch action tool at the bottom of the page to delete all the selected orders.
Tip:
If you're concerned about them taking up space; be aware that "not completed" orders automatically delete after 60-days!
As stated, Not Completed orders can be a wealth of information regarding why your customers may be abandoning their carts. This information can be used to improve different functions of your site and improve the customer's overall experience. The idea is to minimize the amount of abandoned carts your store experiences. For more in-depth information, please read our knowledge base article regarding Incomplete Orders which is available by clicking here.
---