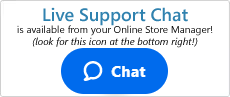 I don't want desktop notifications, ever. Can these be disabled?
As orders come into your store, you will receive an indicator at the top right of the Shift4Shop Online Store Manager as well as a copy of the customer's notification email. And - if you are using Google's Chrome browser while logged into your store admin -you will also receive desktop notifications from the browser.
Desktop Notification are a default feature in Chrome but it can be enabled/disabled and fine tuned as needed.
Please use the following steps copied directly from Google's help information:
Turn notifications on or off
You can set up Chrome to get notifications, like meeting reminders, from websites, apps, and extensions on your computer.
---
How notifications work
By default, Chrome alerts you whenever a website, app, or extension wants to send you notifications. You can change this setting at any time.
If you're browsing in incognito mode, you won't get notifications.
---
Allow or block notifications from all sites
Windows and Mac
Open Chrome.
In the upper right corner of the browser window, click the Chrome menu .
Click Settings > Show advanced settings.
In the "Privacy" section, click Content settings.
In the dialog that appears, go to "Notifications" and choose one of the following:

Allow all sites to show notifications: You'll automatically see notifications from all websites.
Ask when a site wants to show notifications: You'll get an alert from Chrome whenever a site wants to show you notifications. This is the default setting.
Do not allow any site to show notifications: You won't see any notifications from websites.
You can also block any sites, apps, and extensions that already have permission to send you notifications. Just click Manage exceptions
---