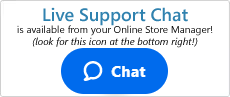 Can I replace the homepage carousel with videos instead of images?
Store owners have asked if it is possible to showcase videos within the homepage carousel rather than static images. Unfortunately, it is not possible. The homepage carousel is designed to only work with images. However, we do have a few alternative ideas that may work for your needs.
Alternate Idea #1: Animated GIFs
If your intent is to just to have basic motion shown on the images rather than a full blown video, then you can use a simple animated GIFs for the homepage carousel. Just be sure to set your transition interval times to match the length of the animated gif. (i.e. if the GIF is two seconds long, set the delay to 2000ms)
Alternate Idea #2: Video Still Frame Linked to video
A different option would be to create a still frame of the video that you'd like to play. Perhaps a still frame with an "play" icon on it. Then, simply use the "Links to (URL)" function of the homepage carousel to link to the video's streaming URL. The effect would be the image is shown on the carousel, and when a person clicks on it, they are redirected to the video streaming site (YouTube, Vimeo, etc)
Alternate Idea #3: Use titles and content instead of homepage carousel
The final idea is to not use the homepage carousel at all for video, but rather embed the video onto your home page using the home page's header section. From your Online Store Manager,
Go to Content >Titles and Content
Locate the home page and click on its action wheel to select its content
Within the header section, add your video's embed coding
Be sure to paste it in non-WYSIWYG mode
Click Save at the top right
With this option, instead of using the homepage carousel, your video will be present on the home page and can played directly from there.
---