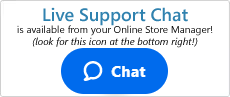 How do I edit my store's terms and conditions?
Your Shift4Shop store comes with a default Terms And Conditions page. The default terms and conditions page is pre-populated with general content such as privacy policies, shipping policies, returns policies and more.
These policies are added to the Terms and Conditions page through the use of database feeds and can be edited to meet your needs. Here's how:
Log into your Shift4Shop Online Store Manager
Using the left hand navigation menu, go to Content >Site Content
Locate the "Terms and Conditions" section and click on its "Edit" button.
Tip
As mentioned, the default Terms and Conditions page is populated through the use of a data feed. This is a concept by which data can be created and organized separately from a page and then inserted dynamically onto the page. Database Feeds can be useful in creating popular website elements such as FAQs, News Articles, Testimonials and - as in this case - Terms and Conditions.
Click here to learn more about Database Feeds and how to set up/use them.
While looking at the Terms and Conditions page, you will see a section labeled "Advanced" with some additional settings. If the settings for this section are not visible, click on the + icon to expand the section.
Click on the "Database Feed" link to view the feeds used on the page
Make your desired changes (see below)
Additional Information
After clicking on the "Database Feed" button, you will have the following options available to tailor your Terms and Conditions feeds.
Editing Feeds
From the Feed Page, you can edit each individual feed by clicking on its respective Action Wheel (located at the far right of it). This will allow you to Edit the Title, Short Description and message body of the feed element.
Deleting Feeds
From the Feed Page, you can delete feeds by marking the checkbox(es) on the left of each feed, and using the "Batch Actions" drop down menu at the bottom of the page
Adding a new Feed
To add a new feed, simply click on the "+Add New" button at the top right and populate the appropriate fields as needed.
---
Terms and Conditions Generator
If you have removed your Terms and Conditions and need some assistance in creating them again, please visit our Terms and Conditions Generator located in the links below.
We also have similar generators for Privacy and Return Policies for your convenience.
---