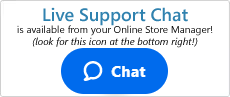 What does the Online Store Manager Search look for?
Along the top, right-hand corner of the Shift4Shop Online Store Manager, you will see a search bar. This is the Admin's global search bar and it can be used to search for either orders, customer records or products.
When typing a customer's name or email address it will return the customer's record (via QuickSeach) and any orders associated to their record. Furthermore, when searching a product keyword, it will return product(s) that share the search phrase.
This search bar is present on every single page of the Online Store Manager and can be used at any time.
---
Alternative Admin Search
The Online Store Manager also contains a search bar for specific pages that you might be viewing at a given time. Typically, these search bars are located along the top left of the following pages:
Products >Product List
Search bar at the top of the product listings will return searches for products
Orders >Manage Orders
Search bar at the top will let you search specifically for orders based on the customer's name, email or invoice number
Customers >Customer List
Search bar at the top will let you search for customer records based on email or customer name
Marketing >Promotion Manager
Search at the top will allow you to search for Promotions by name
Marketing >Autoresponders
Search bar at the top will let you search for Autoresponder campaigns by name
Marketing >Newsletters
Search Bar at the top will let you search for Newsletter by name.
Marketing >Group Certificates
Search Bar at the top will allow you to search for Certificate Campaigns by name
Content >Blog
Search will let you search for Blog articles by name
Settings >Distributor
Search for distributors by name
Settings >Manufacturers
Search for manufacturer records in your store by Name or website (if entered)
Settings >Design >Themes & Styles
Search available themes by name
Settings >Store Language
Search the entire store's language settings by Area, Label or Text
Settings >Payment | Gift Certificates
Search allows you to find gift certificates by code, date created (mm/dd/yyyy), and amounts.
Modules
Use the search bar along the top to find Modules by name.
---
Store Admin Search Indexing
Stores with a very large database of orders, customer records, and products may experience slower searches in the Online Store Manager due to the sheer amount of data that the admin needs to search through.
Because of this, your Shift4Shop store has an option in the store settings to index your internal Online Store Manager pages and help make searches more responsive. To enable this setting, use the following steps:
Log into your Shift4Shop Online Store Manager
Using the left hand navigation menu, go to Settings >General >Store Settings
Next, click on the "General" tab
Look towards the left hand side of the page and you will see a checkbox labeled "Store Admin Search Indexing"
Place a mark in the checkbox and click "Save" at the top right of the page.
Once the setting is saved, click on the "Rebuild Index" page to manually have the store build the index for internal searches.
Note
It is important to note that this setting does not have any effect on your store front searches. It is only for searches within the Online Store Manager itself. Furthermore, the setting is intended mainly for large stores with a very large database of orders, customers and products. Enabling it on a regular sized store is not recommended as it has no discernable effect for most stores.
---