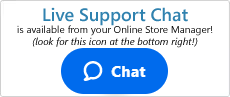 Knowledgebase
How do I offer PayPal Pay-in-4 or PayPal Credit to my Shoppers?
PayPal Credit is a PayPal service that gives your customers access to No Payments and No Interest if paid in full in 6 months on purchases of $99 or more.
As a merchant, you can offer this service to your shoppers by displaying free, ready-made banner ads along with your PayPal payment methods, enticing your shoppers to sign up for the financing.
Best of all, you still get paid for the order(s) up front as you normally would with PayPal.
Shift4Shop has integrated the PayPal Credit option when you use the PayPal Checkout payment method.
To enable the option, please use the following steps:
Log into your Shift4Shop Online Store Manager
Using the left hand navigation menu, go to Settings >Payment
Next, click on the "Select Payment" button under Payment Methods
Look for your enabled PayPal Checkout Payment method
Mark the checkbox and "Save" the payment method.
When enabled, your shoppers will now see the PayPal Credit method banner alongside your regular Payment buttons as shown below.
---